1st Experience with Horseback Riding
When my son was 6 months old, I noticed his love for animals. So we joined a baby and me group for a fun event at an animal farm. The farm's main attraction was pony and horseback riding which my 6-month-old son seemed to really enjoy. Though he was only 6 months old, he had a distinct connection with the ponies that didn't go unnoticed by the other moms. Even the farm attendants remarked that he would grow to love and be good at horseback riding. Soon, the day ended and we went on our merry way with no plans to revisit such adventure.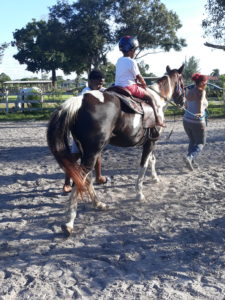 Fast forward about 6.5 years later. I decided to surprise Liam (my son) on his 7th birthday to an evening of horseback riding. Since he had only been around horses once, an event I was sure he didn't remember, I carefully approached the situation. Still, I had high hopes that he would enjoy the experience. Even though I hoped for a fun experience , the real reason behind the visit was to broaden his experience of different live animals. You see, he has challenges with receptive and expressive language, so, modeling the word with a clear picture was effective in improving his language skills. This technique we took from extensive Speech therapy .
Our Horseback Riding Story
We got to the ranch and were greeted by the rancher and 3 horses. There were more than 3 horses on the ranch but those 3 were not barned. Those 3 horses had a special interest in Liam. They insisted on following him regardless of how the rancher shielded him. The rancher called her assistant for backup. I overheard her telling the assistant that the 3 horses insisted on meeting Liam.
What did she mean? I thought.
"I am sorry for that. Usually these 3 horses show disinterest in our guests which is why we didn't care to have them out at your arrival. But, for some reason they want to meet your son," she said.
I suggested that the horses might have been attracted to Liam because he has autism spectrum disorder (ASD). This I made up to break the ice. That's when she uncovered that those 3 horses were used in therapeutic horseback riding for children with autism. Since Liam did not demonstrate any ASD stereotypic behaviors at the initial greeting, the thought of the horses being able to identify him as having autism gave me chills. That was also my first time learning about therapeutic horseback riding.
Therapeutic Horseback Riding Treatment for Autism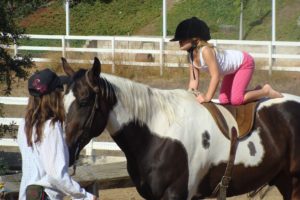 So what is therapeutic horseback riding and how does it improve autism associated symptoms? Therapeutic horseback riding (TR) or equine assisted therapy is an activity used with individuals with autism and other special needs. It is used for the purpose of improving physical, emotional, intellectual and social wellness. It is also beneficial in improving balance and coordination, fine and gross motor skills (Anderson et al, 2019), as well as providing positive sensory stimulation.
Researchers investigated the effects of therapeutic horseback riding (TR) or equine assisted therapy on social communication and sensory processing skills of children with autism. They found an increased social interaction, improved sensory processing, and decreased severity of symptoms associated with autism spectrum disorders in those that participated in TR (Ward et al, 2013). TR or equine assisted therapy also influences targeted behaviors in children with autism (Holm et al, 2014). Other studies suggest that therapeutic riding also improves irritability in children with autism.
Liam has since been participating in therapeutic horseback riding. Not only does he love it, but we have seen tremendous improvements in his emotional and social health.
References:
Anderson, S. K., Loy, D. P., Janke, M. C., & Watts, C. E. (2019). The effects of therapeutic horseback riding on balance. Therapeutic Recreation Journal, 53(4), 307–321.
Holm, M., Baird, J., Kim, Y., Rajora, K., D'Silva, D., Podolinsky, L., … Minshew, N. (2014). Therapeutic horseback riding outcomes of parent-identified goals for children with autism spectrum disorder: An ABA′ multiple case design examining dosing and generalization to the home and community. Journal of Autism & Developmental Disorders, 44(4), 937–947.
Ward, S., Whalon, K., Rusnak, K., Wendell, K., & Paschall, N. (2013). The association between therapeutic horseback riding and the social communication and sensory reactions of children with autism. Journal of Autism & Developmental Disorders, 43(9), 2190–2198.